VENT 2015
Prototype and test
An ongoing project of mine is examining how I can work with traditional paper yarn weaving in new ways. This particular weave or wrapping creates a strong double curved seat.
VENT was made in collaboration with Skagerak for the exhibition Petit - Snedkernes Efterårsudstilling 2015 shown at Øregaard Museum and at Maison du Danemark, Paris.
Materials: Paper yarn and powdercoated steel
Photos: Andreas Omvik
 
GEORG 2012
www.skagerak.dk
The GEORG collection is inspired by the furniture that we often look upon as secondary in our homes. The expression and functionality of the different products in the collection are made to fit in many different situations.
The GEORG stool was originally made for Mindcraft 12 and is part of the permanent collection at both Designmuseum Danmark and Trapholt
Awards
German Design Award 2017
Elle Decoration Swedish Design Award 2016
German Design Award 2016
Red Dot Award 2014
CUTTING BOARDS 2015
Prototype
Three different sized maple wood cutting boards. The ends are rounded so when stored against a wall they meet the table top nicely.
Photos: Andreas Omvik
HEIGHTS 2014
www.design-nation.dk
HEIGHTS candlesticks in powdercoated steel resembles old factory buildings with huge chimneys.
Materials: powdercoated steel
HANG CHAIR 2015
www.skagerak.dk
HANG Chair is a reinterpretation of a classic folding deck chair. The weather resistant textile allows it to be used both indoor and outdoor.
Materials: Powdercoated steel and Barriere®
CURTAIN 2013
One-off
The CURTAIN wardrobes were made for the exhibition Storage - Snedkernes Efterårsudstilling 2013 shown at Designmuseum Danmark.
Thanks to Kvadrat
Photo: Erika Svensson
TRAY 2014
www.design-nation.dk
TRAY in powdercoated steel with ash rod handles and rubber bands. The tray comes in black, light grey and green.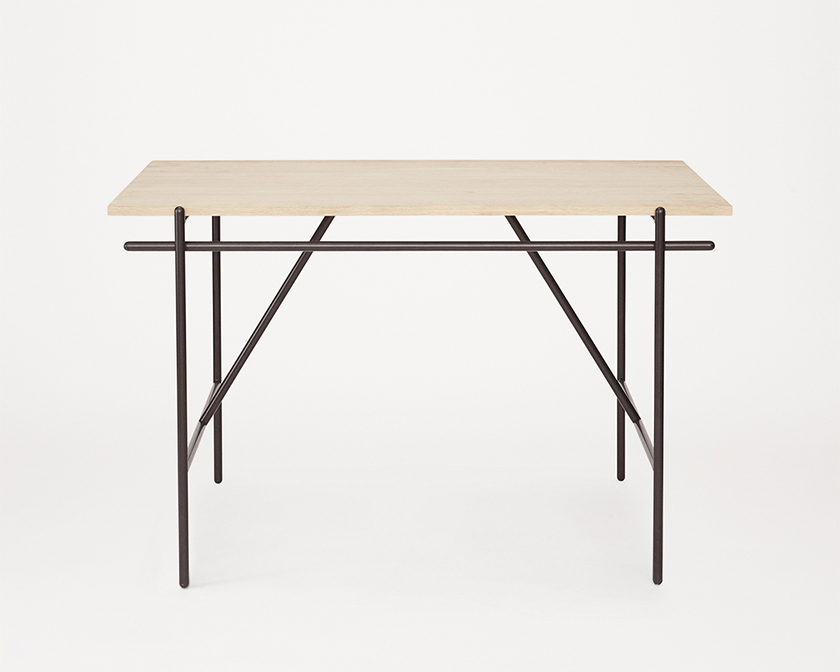 WD-1 2103
www.framacph.com

Writing desk in oak and powdercoated steel. The frame allows you to hang your bag, a newspaper or maybe a sweater.
COVER_UP 2010
Out of production

Lounge chair in oak and loose duvet as upholstery.
COVER_UP was originally made in a white version for the exhibition Whiteout - Snedkernes Efterårsudstilling 2010 at Ordrupgaard Museum.
Materials: Oak, canvas webbing, kapok, Barriere®
VINDSTILLE 2013
One-off
The Danish word Vindstille means that there is no wind. So to describe this kind of weather we need the opposite, wind, present in the word.
The two wooden screens with draped textiles are like frozen moments in a window with curtains.
 
Thanks to Kvadrat
Photo: Erika Svensson
LIFT 2012
One-off
The LIFT box was made for the exhibtion Sculptural Furniture - Snedkernes Efterårsudstilling 2012 shown at Thorvaldesens Museum.
Materials: birch wood, powdercoated steel.
BEDDO 2010
www.skagerak.dk
Low daybed in oak with loose mattress and duvet. BEDDO was originally made for the exhibition Designers Investigating In Øksnehallen, Copenhagen.
HANGU / RIPPLE 2011
One-offs
HANGU side table in oak and concrete. RIPPLE carpet in wool and cotton cords were part of the exhibition My 30th Birthday - Snedkernes Efterårsudstilling 2011
Photo: Thomas Ibsen.
GYM DE LUXE 2010
One-off
Vegetable tanned leather mattress, organic woolen pillows with kapok filling, walnut hooks
GYM DE LUXE was made for the exhibition Pillow Fight shown at Officinet.

GYM DE LUXE was awarded by the Danish Arts Foundation
Photo: Kristine Funch
MEDIATOR 2009
One-off
Two steel chairs connected with a woolen tunisian crocheted textile
The chairs that were made for the exhibition Dialogue - Snedkernes Efterårsudstilling 2009 urges the two opponent parties to engage in a discussion, daring them to listen to other arguments than their own.
Photo: Jeppe Gudmundsen-Holmgreen